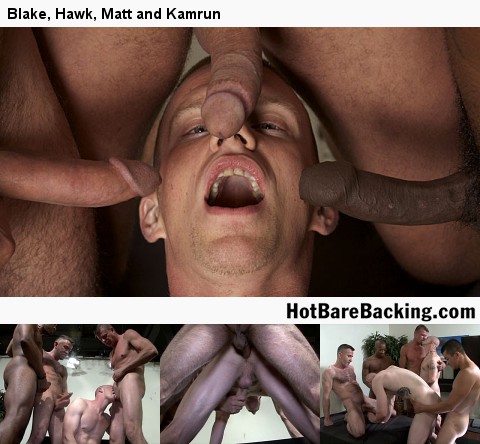 The third scene starts off with Blake doing what he was born to do; taking raw cock into any hole possible. This time he is on his knees with Matt Sizemore, Kamrun, and Hawk Mcallister surrounding him, shoving their meat in his mouth and hands. After getting his men nice and hard with his mouth, Blake is now happily ready to open up and take more raw cock into his sore pink hole. Hawk is the first to thrust into the pig bottom, fucking him long and good, before passing the torch to Matt. Rowdy, followed by all the other guys from the previous scenes, begin to once again trickle in, wanting seconds, and begin fucking Blake again.
Rick shoves his elephant-trunk-sized cock in Blake, as the bottom screams out in a mix of agony and pleasure as Shawn climbs on the table and fucks Blake's face. Blake then takes to the black leather fuck-swing as all the tops circle around and begin to jerk off, hungry for a turn at his insides. With his legs spread wide and open for business, Blake continues to take 8 more rounds of pounding to his used asshole, until Matt shoves Kamrun aside and blasts Blake's ass with even more cum. Rick steps up to the plate, eager for another round and is the next to fuck another man-sized load into Blake, with Kamrun right behind him, pulling out his huge black cock and spraying Blake's sore hole with more jizz, fucking it hard into him.
Joey is also back again for seconds, stabbing Blake's insides with his perfect cock, and fucking the bottom hard until he drops more warm cum into his hole. Blake now dripping with cum is then fucked by Hawk and Shawn, who fuck his ass raw and hard, and excitedly pump their loads into Blake's cum-filled hole. Blake's ass, now at maximum capacity for jizz is now spilling over, as Blake begins to jerk his pink rod, which explodes all over this stomach and hands as he licks it all clean.
Visit Hot Barebacking